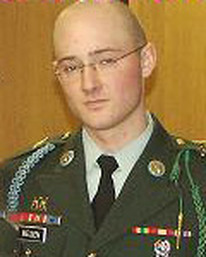 CPL. CASEY L. MELLEN - U.S. Army
Hometown / City: HUACHUCA CITY, AZ COCHISE
Date of Death: Monday, September 25, 2006
Conflict: Operation Iraqi Freedom (Iraq)
Branch: U.S. Army
Rank: Cpl.
Unit: HHC, 5TH BATTALION, 20TH INFANTRY REGIMENT, (25TH ID), FORT LEWIS, WA
Birth: Jan. 9, 1985, USA
Death: Sep. 25, 2006, Iraq
Cpl. Casey L. Mellen of Huachuca City, Ariz., lived in Huachuca City for about 5 years. He graduated from Omega Alpha Academy charter school in Sierra Vista in 2004 and joined the Army after a semester at Cochise College. He left for Iraq in June, and was scheduled to serve a one-year tour. Military service is a strong tradition in the family. The elder Casey works as a civilian employee at Fort Huachuca in Sierra Vista.
Casey had a calming influence on his comrades and held a place of honor in his platoon. He had an uncanny ability to slow things down and project a sense of peace, even in a place of chaos and ugliness. He died in Balad, Iraq, of injuries sustained when his mounted patrol came in contact with enemy forces using small-arms fire during combat operations in Mosul, Iraq at age 21.
Army
5th Battalion
20th Infantry Regiment
3rd Brigade
2nd Infantry Division
(Stryker Brigade Combat Team)
Fort Lewis, Wash.
Burial:
Southern Arizona Veterans Memorial Cemetery
Sierra Vista
Cochise County
Arizona, USA
Plot: Sec 3 Site 486