CMSgt SERGEANT NICHOLAS L. MCCASKILL - U.S. Air Force
Date of Death: April 6, 2013
Branch: U.S. Air Force
Rank: Chief Master Sergeant
Unit: 306th Rescue Squadron at Davis-Monthan
Chief Master Sergeant Nicholas L. McCaskill was born in Pamona, California on January 5, 1972.
He spent most of his childhood in Long Beach then moved to San Clemente where he graduated high school. Nick excelled in motocross, surfing and soccer. Shortly after high school he joined the Air Force, to seek stability and direction.
In May of 1992 CMSgt McCaskill entered the air force as a Structural Maintenance Specialist. Assigned at Nellis AFB, Nevada, he worked on F-4, F-15, F-16, A-10 aircraft and HH-60G helicopters. This is where he met his loving wife of 20 years, Nikki and they were married shortly thereafter at the Little White Chapel in Las Vegas. Nikki was an Aircrew Flight Equipment parachute rigger. Nick shared his dreams of becoming a Pararescueman, and Nikki encouraged him to pursue his goals.
In October 1994 he entered the two-year Pararescue indoctrination Pipeline. His training included a ten week selection/indoctrination course; SEAL/BUDS Combat Diver; US Army Airborne and Military Free-Fall Parachutist; and Survival, Evacuation, Resistance and Escape (SERE). This was followed by nine months of Pararescue School where he learned PJ tactics, techniques and procedures.In November of 1996 Chief McCaskill was assigned to the 66th Rescue Squadron at Nellis to begin his career as a Pararescueman. While stationed there, he and Nikki were blessed with their two daughters. Kenna, 16, is a phenomenal artist, and Tyler, 13, is a talented violinist and vocalist.
During this time, he deployed numerous times in support of Operation NORTHERN WATCH in Turkey and Operation SOUTHERN WATCH in Kuwait.In 2001, Chief McCaskill was ordered to 320th Special Tactics Squadron, 353rd Special Operations Group, Kadena Air Base, Japan. While assigned as a Special Tactics Pararescueman, he deployed in support of Operation ENDURING FREEDOM-Philippines where he augmented the 1st Special Forces Group theater Quick Reaction Force. CMSgt McCaskill provided vital combat search and rescue expertise in direct support of a mission to rescue American hostages, for which he was awarded the Joint Service Achievement Medal from the Commander of the United States Pacific Command. In addition, he supported a maritime interdiction operation that led to the elimination of the region's #1 most-wanted terrorist. In 2003, the 353rd Special Operations Group recognized Chief McCaskill as PJ of the Year for "building the most capable team in the unit's history."
Next, the Air Force led Chief McCaskill to Davis-Monthan Air Force Base, Arizona, to join the 48thRescue Squadron in 2005. He deployed with the team to Kandahar Airfield, Afghanistan, in support of Operation ENDURING FREEDOM where he led 13 combat missions. While exposed to extreme danger from hostile machine gun and rocket propelled grenade fire, Chief McCaskill led a four-man rescue team to recover six United States Army aircrew and four 10th Mountain Division soldiers killed in a CH-47 helicopter crash. This recovery required a 3-hour overland movement through hostile and hazardous mountainous terrain. They worked continuously for 24 hours taking sporadic enemy fire to ensure that all 10 HEROS and all sensitive items were recovered from the crash site. For his heroic efforts on this mission, Chief McCaskill was awarded the Bronze Star Medal.
Later that year, Chief McCaskill led a 14-man team in support of Hurricanes Katrina and Rita relief. They were credited with 1200 saves.In July of 2006, Chief McCaskill became a reservist with the 306th Rescue Squadron at DavisMonthan. Chief McCaskill led numerous NASA rotary wing missions at Kennedy Space Center and executed Guardian Angel exercises with ally countries in both Tajikistan and the Philippines.Chief McCaskill served over 20 years in the military, including 16 years conducting Rescue and Special Operations. He had 500 plus flight hours, 200 of which were during combat operations.
The culmination of his high level of performance, excellence and dedication to the 306th Rescue Squadron and the United States Air Force throughout his military career earned him the highest enlisted rank of Chief Master Sergeant, effective 1 February 2013.
Nick was a seasoned PJ with a knack for accomplishing the impossible. He was known for his addictive personality and his ability to shed light on the toughest of situations. Nick was a mentor to all who knew him. The men and women of the SOF and rescue communities will look back fondly on the time they spent with him. Rest in peace our friend, we will never forget you.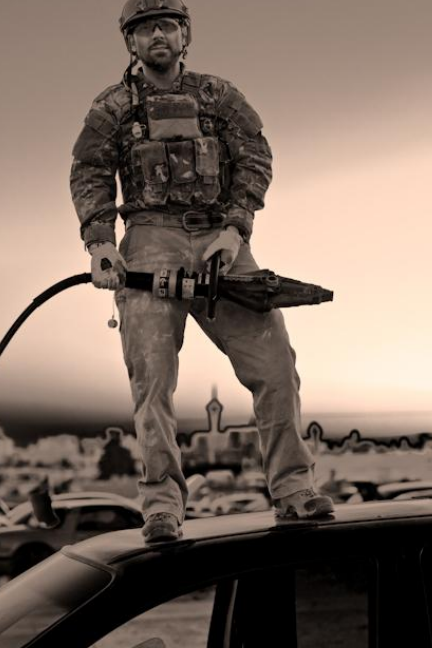 Awards and Decorations
Bronze Star
Air Medal
Air Force Commendation Medal w/2 OLC
Army Commendation Medal
Combat Action Medal
Aerial Achievement Medal w/ 2 OLC
Meritorious Service Medal
Humanitarian Service Medal
Joint Service Achievement Medal
Combat Readiness Medal