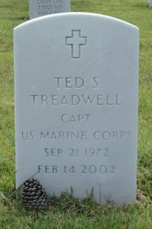 CAPT. THEODORE S. TREADWELL
Hometown / City: Phoenix
Date of Death: February 14, 2002
USMC
HM3-135B
February 16, 2002
Two Camp Pendleton Marines died and two were injured late Thursday when their UH-1N Huey helicopter crashed in the Chocolate Mountains of Imperial County, base officials said yesterday.
It was the second fatal training accident this month.
The pilot, Capt. Theodore S. Treadwell, 29, of Phoenix, AZand the crew chief, Staff Sgt. Roderick D. Nesmith, 30, of Cortez, Colo., were killed.
Crew chief Cpl. Andrew S. Leyda, 24, of Kent, Ohio, and co-pilot 1st Lt. William E. Malsch, 29, from Allentown, Pa., were injured. Both were in fair condition at St. Joseph's Hospital and Medical Center in Phoenix AZ.
All were assigned to the Marine Medium Helicopter Squadron 166, part of Pendleton's 11th Marine Expeditionary Unit.
The accident occurred at 11 p.m. during a training flight over the southwestern end of the mountain range. The injured were airlifted to Yuma Regional Medical Center in Yuma, AZ then transferred to Phoenix AZ.
The helicopter and its crew were scheduled to leave this summer for a six-month deployment in the Western Pacific and the Arabian Gulf. They were flying near the Chocolate Mountain Naval Reservation Aerial Gunnery Range.
"These Marines were killed and injured while training for missions that we will very likely be called upon to perform when we deploy," said the squadron commander, Lt. Col Elvis Vasquez.
"We will continue to train, remaining vigilant of the threats, and cognizant of the fact that our comrades' sacrifice was not in vain."
Nesmith leaves a wife and five children ages 10 and under. His wife, Jennifer, 30, said he was a 13-year Marine veteran and a tri-athlete who competed in Iron Man competitions.
The last memory his daughters will have of him is Valentine's Day, she said. He delivered valentines to them at their school.
"He told them how proud he was of them in front of the class, how much he loved them," Jennifer Nesmith said. "It's a good memory to have."
Treadwell leaves a wife who is a Navy pilot. She declined to comment yesterday.
His mother, Sandra Treadwell, described him as an avid fly fisherman who went straight into the Marines after graduating from California Lutheran University in Thousand Oaks.
"He wanted to fly for as long as he's been able to walk," she said.