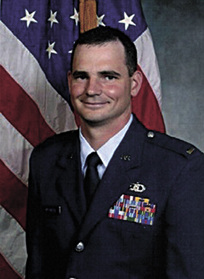 CAPT. Nathan J. Nylander - U.S. Air Force
Hometown / City: Hockley, TX Waller
Age: 35
Date of Death: Wednesday, April 27, 2011
Conflict: Operation Enduring Freedom (Afghanistan)
Branch: U.S. Air Force
Rank: Capt.
Unit: 25th Operational Weather Squadron
Post / Base: Davis-Monthan Air Force Base, AZ
Birth: Jan. 23, 1976
Fairbury, Livingston County, Illinois, USA
Death: Apr. 27, 2011
Kabul, Afghanistan
Saturday September 24th, Captain Nathan Nylander was posthumously awarded the Silver Star Medal. The highest-ranking officer in the Air Force addressed hundreds of uniformed personnel during his visit to Tucson.
His most important audience was the three children of Capt. Nathan Nylander, who was being honored for putting others first on April 27, when an Afghan military pilot opened fire during a meeting at an airport in Kabul.
Midway through the medal ceremony, Gen. Norton A. Schwartz, Air Force chief of staff, spoke directly to Nylander's children, hoping to help them fully understand the significance of their father's sacrifice.
On the day of the shooting, Nathan Nylander was in a conference room with other Air Force and Afghan personnel when a gunman opened fire.
Nylander evacuated the room, then went into a hallway, where he and another officer fired their pistols at the gunman.
Nylander believed the assailant was incapacitated by his wounds and began helping the injured personnel. But the gunman resumed the attack. Nylander fired at the man again before being shot fatally.
Nylander could have left the building along with the people he guided outside, but he chose to stay and help those in danger, Schwartz said.
"Our nation was blessed with such a brave and generous airman," he said.
Capt. Nathan J. Nylander, 35, of Hockley, Texas, is my good friend's step-son.
He died April 27, 2011 at the Kabul International Airport, Afghanistan, of wounds suffered from gunfire while he was in a meeting at the airport. He was assigned to the 25th Operational Weather Squadron, Davis-Monthan Air Force Base, AZ.
Services were held in Arizona, with another memorial service in Fairbury Illinois later.
The following is the obituary for the Illinois memorial service partially taken from The Bloomington Illinois Daily Pantagraph, and which was written by his family in Illinois:
"FAIRBURY — Capt. Nathan J. Nylander, 35, Tucson, Ariz., formerly of Fairbury, was killed April 27, 2011, at the airport in Kabul, Afghanistan.
A memorial service will be at 2 p.m. Sunday June 19, 2011, at Trinity Lutheran Church, Fairbury, with the Rev. Tom Krieger officiating. Full military rites will be accorded by Fairbury VFW Post 9789 and John Joda American Legion Post 54 at Graceland Cemetery, Fairbury. The Patriot Gaurd also will participate.
Nathan was born Jan. 23, 1976, in Fairbury, Illinois.
Surviving is his wife Miriam, children, Tyler, Elisabeth and Andru, all at home; his father, Wendell "Butch" (Carol) Nylander, his mother, Mary (Charles) Grant; two sisters, Nikki and Tara; one brother, Chris; and a paternal grandmother, Mary Ellen Nylander.
Nathan was a graduate of Waller High School in Texas. He left in July 1994 for basic military training at Lakeland Air Force Base, Texas, and began his career as an airman in the U.S. Air Force. Upon completion of training, he went to technical school at Goodfellow AFB in Texas to become a radio and satellite data analyst. After technical school, he went to Patrick AFB, Fla.
In January 1998, Senior Airman Nylander cross-trained into the weather career field. He then spent time at Keesler AFB, Miss. Later he transferred to Luke AFB, Ariz. He also served at Yongsan Air Base, South Korea, and Chambersburg, Pa. In February 2006, Sgt. Nylander arrived at officer training school where he was recognized as the No. 1 graduate of his class. From 2006 through 2009, Lt. Nylander was stationed at Hickam AFB, Hawaii.
In May 2009, Lt. Nylander became the flight commander for Central Flight at the 25th Operational Weather Squadron at Davis-Monthan AFB, Ariz. After only three months on the job, he was lauded as an "exceptional performer" by the standardization and evaluation team inspectors and pivotal to the squadron's "excellent" rating.
In his critical leadership role, Capt. Nylander was extremely innovative. His ideas laid the foundation of a squadron reorganization that propelled weather performance to its highest levels in over a decade. Most recently, Capt. Nylander was a flight commander with the 438th Air Expeditionary Wing base in the Afghan capital.
Capt. Nylander received the Bronze Star, Purple Heart, Meritorious Medal with 1 oak leaf cluster, AF Commendation Medal w/3 OLC, Joint Service Achievement Medal, AF Achievement Medal, AF Combat Action Medal, AF Outstanding Unit Award w/1 Silver OLC as well as numerous other awards and decorations."
Nathan was a true American hero.
From FindAGrave.com, courtesy of Pam Haag Geyer, used by permission.
East Lawn Palms Cemetery & Mortuary
Tucson
Pima County
Arizona, USA