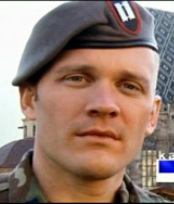 CAPT. JOHN FRUEH
Hometown / City: Mesa
Date of Death: September 8, 2007
US Air Force
PORTLAND, Ore. (AP) - The body of a missing Air Force captain from Florida has been found near Badger Peak in northeast Skamania County, Wash., Portland police said Sunday.  Acting on a tip from Portland police, Skamania County authorities found Capt. John Frueh's rental car about noon on Saturday. They quickly began a search and rescue mission and, with the help of search dogs, found Frueh's body near the vehicle about 5 p.m., the Skamania County Sheriff's Office said.
Authorities said foul play is not suspected.
Skamania County is located in south-central Washington along the Columbia River Gorge, a popular spot for hiking and other outdoor activities.
Frueh, 33, came to Portland late last month to attend a friend's wedding. He last spoke with family on Aug. 30.