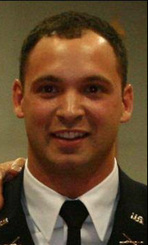 1st LT. JONAM RUSSELL - U.S. Army
Hometown: Cottonwood, AZ.
Date of Death: Tuesday July 23, 2013.
Conflict: Operation Enduring Freedom (Afghanistan)
Branch: U.S. Army
Rank: 1st Lieutenant
An Arizona soldier serving in the Arizona State University Army ROTC Sun Devil Battalion has died in in the line of duty
According to the University, 1st Lieutenant Jonam Russell was killed Tuesday while serving in Wardak Province, Afghanistan.
Russell has been serving as an infantry officer since May of 2011.
He was the oldest of six and he had friends across the country.
They say he was living his dream-- serving his country. His friends like Dawn Malapanes, are left heartbroken.
"It's complete devastation. When this amazing person, he's gone," she said.
Dawn worked with Russell for a little while and can't forget his smile.
"He was kind of like a giant magnet, you know. He walked into a room, and everyone knew he was there," she said.
Dawn says Cottonwood, his hometown, is devastated by his death.
"He's truly, truly going to be missed. He's truly one of those people that you'll never forget."
Lt. Christopher Triem with the Arizona Army National Guard says they started their careers together training.
"He was the kind of person that you would want to serve with. He was that person, that knowing he was on my right or on my left, when it really hits the fan, that I can count on him. That I don't have to worry," he said.
Christopher says Russell died doing what he loved.
"I want him to be remembered for everything that he stood for, what he fought for, what he died for. And truly the person he was," he said.
The University will be holding a memorial ceremony in Old Main on ASU's Tempe campus on Friday morning, July 26, 2013 at 10:00 a.m.
All those wishing to pay final respects are welcome to attend.
Copyright 2013 Scripps Media,
Read more: http://www.abc15.com/dpp/news/national/arizona-soldier-1st-lt-jonam-russell-killed-in-afghanistan#ixzz2a4KhjJ6q